Welcome to the BANI.UA platform. Here you will find the most relevant information about saunas and baths in Ukraine. The large catalog listing SPA salons, bath and other health facilities, you can easily find a place to relax.
For those who are looking for the best sauna or bath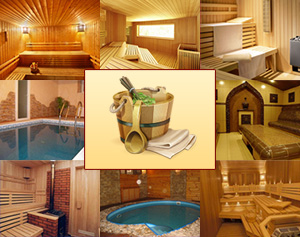 For your special search system has been created in which you can choose the type of institution, cost, area, type of steam room and other types of services. Thanks to such a system, in a matter of seconds you can find the necessary institution, among thousands of offers.
If our site has helped you relax with benefit, then we have done our job! For many, the choice of a bath and its visit is a whole ritual, so we advise you not to rush and make a careful selection.
Our portal BANI.UA , is not a simple catalog of saunas and steam rooms. We try to tell as much as possible about each institution. For example, each vacation spot is accompanied by photographs and a detailed description of the services. Without leaving your home, you will already have an idea of ​​what awaits you. In the description you will find out how many rooms are offered, what kind of kitchen is available to customers, which metro stations are located nearby, whether there is a pool or pool table and a lot of related information. Believe me, because of the great competition, baths and saunas are now much more functional, more convenient, more comfortable, and the quality of services is much higher!
If you are limited in financial means, but prefer a quality vacation, do a sorting by cost. So you can find a good institution at a low price.
There are reviews on our platform. Anyone can share their impressions of the institution in which he visited. You can tell others whether the information provided on our website is consistent with reality, and how much the photos correspond to the decoration. Thus, you will help not only other people, but also our portal, as we strive to provide only true information.
We hope BANI.UA will become your indispensable assistant in finding the best baths in Ukraine! Since we have an extensive catalog, do not be afraid to try a new one, because each institution has its advantages!
Owners of saunas and baths
If you are the owner of a sauna or bath, we will be happy to add your institution to our catalog. Since our portal collects a large number of visitors, it is possible that some of them will want to visit your steam room.